New Patients at Gilmore Chiropractic
Preparing for Your Appointment
We encourage you to fill out your intake forms in advance to speed up your first visit. Feel free to call anytime with questions you may have.
ONLINE FORMS »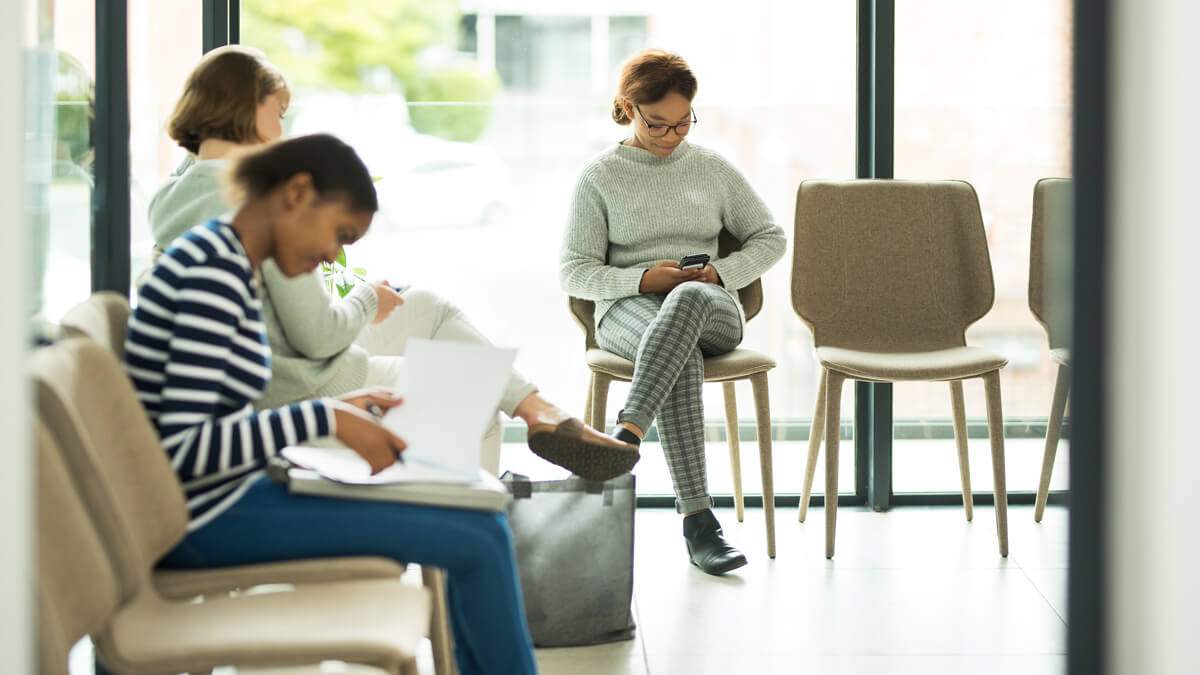 First Appointment
If you didn't get a chance to complete your intake forms yet, we recommend arriving 15 minutes early. After we get your paperwork from you, you'll meet with Dr. Gilmore to discuss your history and current concerns.
Dr. Gilmore will perform an examination and X-rays if necessary. Depending on the condition, we will give a relief treatment and at-home instructions as needed. If you're not a good candidate for our care, we'll refer you to the right place. This appointment takes approximately 30-45 minutes.
Please assist us by providing the following information at the time of your first visit:
Any x-rays or MRI's (if applicable)
Insurance cards/information
Your Second Appointment
Dr. Gilmore will review your case before you come in the next day for your second appointment. Depending on the condition, our staff may take you to do therapies before Dr. Gilmore goes over the report of findings in detail with you. He'll explain what's wrong, what needs to be done and our recommended plan of care. After answering your questions, he'll perform your first adjustment. This visit lasts approximately 20-30 minutes.
If you have an acute or chronic condition that needs to be treated or improved, you will be put on a treatment plan to obtain the maximum results. Patients seeking maintenance treatment will discuss with Dr. Gilmore the best course of action for your specific goals.
Regular Appointments
If your condition benefits from our therapies, you will start with those. Afterwards, you will see Dr. Gilmore for your adjustment. This appointment usually takes about 15 minutes. When you've reached your goals, you'll be released from care. Some patients like to continue seeing us because they feel better and stay healthier. We do offer various maintenance packages based on how often you need or choose to come in.
Regular checks, as often as once a week or up to once a month, can help you feel great and maintain an active lifestyle, all while reducing the risk of previous conditions coming back or new ones popping up.
Honest, Transparent Service
We'll discuss finances with you and let you know your benefits before providing adjustments so you know your out-of-pocket cost upfront. We accept most insurances.
We'll discuss finances with you and let you know your benefits before providing any services so you know your out-of-pocket cost upfront. We accept the following major health insurances:
Aetna
Anthem Blue Cross Blue Shield
Cigna
Humana
IU Health
Medicaid
Medicare
Medpay
Meritain Health
MDwise
MHS
United Healthcare
We're an in-network provider with the majority of insurance companies, but if you would like to verify our provider status with your network beforehand, feel free to call or email with any questions.
If you don't see your insurance listed here, you may still be covered. Call us so we can verify your benefits. We also offer self-pay options.
We accept HSAs, FSAs, and all major credit cards. We also provide affordable payment plans.
Join Our Health Care Family Today
No one should accept pain as normal. Book your appointment now so we can start finding solutions that work.
CONTACT US »
---
New Patients at Gilmore Chiropractic | (317) 587-2727